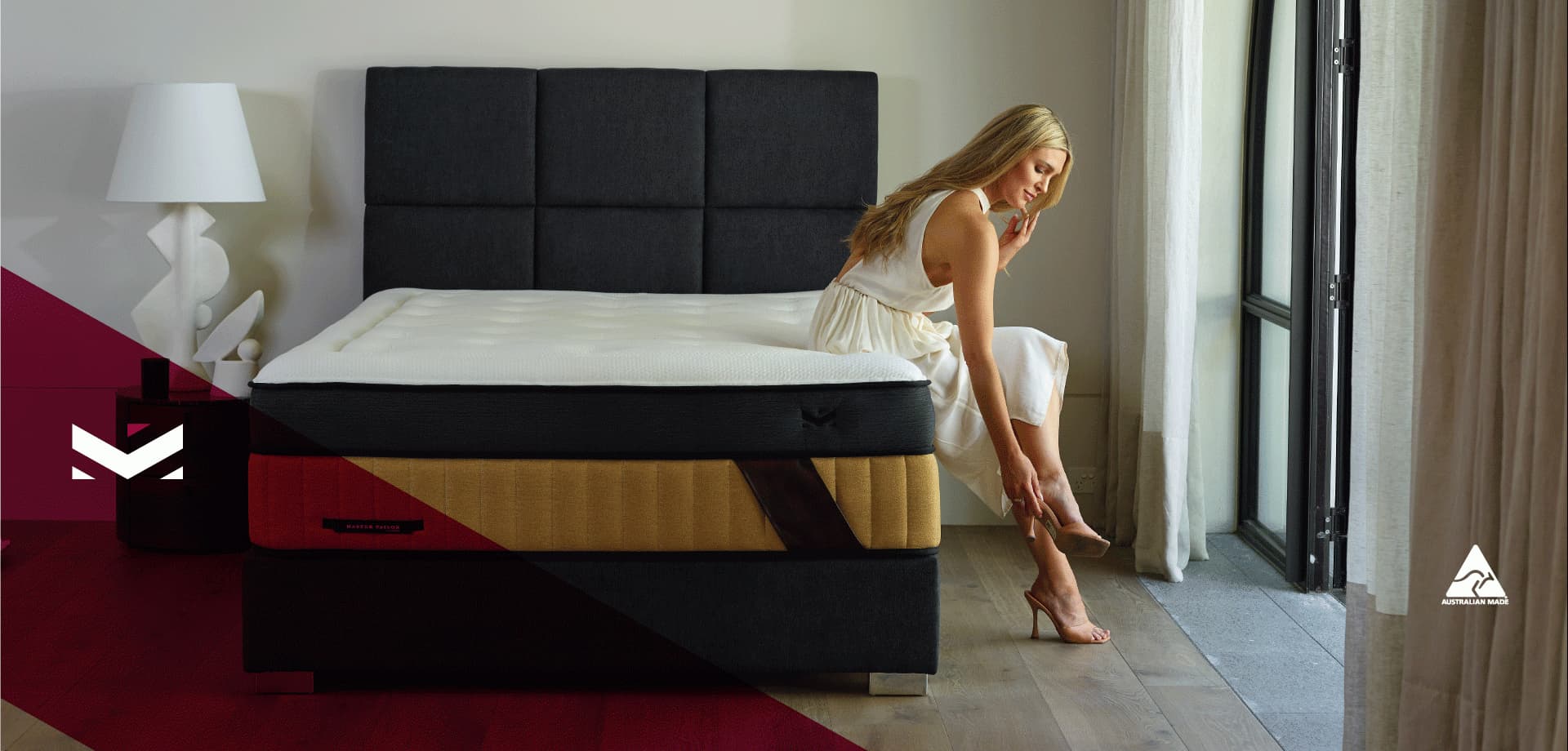 Master Tailor™
This level of luxury and comfort has to be experienced to be believed. Like the name suggests, the Master Tailor™ mattress collections are only crafted by our skilled Master Tailors. Individuals who have perfected the art of mattress making and who have a minimum of 10 years+ experience under their belt crafting Australian mattresses.

Models will vary so please check with your retailer for exact product details.
Read More
Luminaire™
The Luminaire™ Collection is an iconic piece that is always on-trend. It wears a signature check. It has been designed for those perfectionists who appreciate uber style, premium comfort, and class; Those who seek supreme comfort and maximum relaxation.

Models will vary so please check with your retailer for exact product details.
Read More
Platinum Luxe Positano
Platinum Luxe is an exclusive collection with a stylish and modern design, engineered with the latest technology and exclusive fabrics to offer premium comfort that will provide a unique and undescribable sleeping experience.

Read More
Ultra Premium
Contemporary Luxury
News & Updates
Welcome to our family circle
Customer Reviews
The best mattress
The best sleep I've had with this mattress, and that's a fact.
Jason - 07 April, 2021
World Class
World Class! Elegant, stylish and absolute comfort. Mattress meant a dream sleep in comfort and peace. Love it!
Jennifer - 18 February, 2021
Would recommend
Extremely happy with my mattress. The customer service was excellent, and they have a great range of mattresses. Definitely would ...
Stephanie - 10 January, 2021
A great experience
Recently purchased this brand and had a great experience with the store and the Comfort Sleep bed. They store we ...
Natalie - 02 October, 2021
Best Bedding Company
One of the best bedding companies in Australia! My brother bought a mattress from him 11 years ago and it ...
Yahya - 05 March, 2019
Simply Fantastic
Mattress is simply fantastic, can't fault it. Excellent service, Australian made and locally owned company. Have referred many people to ...
Nicholas - 24 November, 2021
I couldn't be happier
What a difference a great bed can make! After doing a lot of research and then testing many in stores ...
Carmen - 19 December, 2020
Making Australia's best mattresses.
Making Australia's best mattresses.
Michael - 02 August, 2021
Friendly Staff
Great service friendly staff excellent bedding
Paolo - 24 July, 2021
Great bed!
Great bed, Great customer service, no fuss mattress delivery. Would recommend 10/10
Hongchen - 10 January, 2021
Great Value
We bought a Sealy mattress a few years ago and decided to change mattresses as my partner was constantly ...
Ash - 12 March, 2021
Love the Service
Love the customer service. Before the mattress was delivered I was consistently contacted to be provided updates.
Chung - 22 May, 2021
Exceptional
Exceptional beds and exceptional service.
Siradore - 17 September, 2021