This Warranty / Guarantee covers:
This Warranty/Guarantee covers the following specific manufacturing faults under conditions of normal wear.
The Warranty/Guarantee term can be found on the law tag sewn into the back of the mattress.
Our goods come with guarantees that cannot be excluded under the Australian Consumer Law. You are entitled to a replacement or refund for a major failure and compensation for any other reasonably foreseeable loss or damage. You are also entitled to have the goods repaired or replaced if the goods fail to be of acceptable quality and the failure does not amount to a major failure.
Register for your Warranty with us
Simply scan the QR code on the warranty card by using your smartphone camera or complete the online product registration form. It can be done on our website -> "support" -> "product registration". The unique (7 digits) serial number can be found on the manufacturing tag sewn into the back of the mattress.
Depending on the manufacture date, the serial number of your mattress could be located differently. Please see the image below for your reference: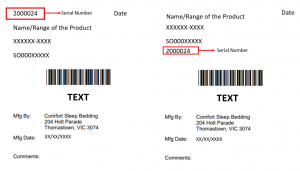 Mattress
Coils or wires that are loose or broken.
Coils or wires protrude or tear through any fabric.
Foundation (base) 1-year warranty.
Splitting occurring in the wood frame.
Loose or broken foundation wires.
Leg and/or castor failure.
Foundation instructions
• Turn the foundation or base of the bed upside down and insert leg and screw gently into the hole and turn clockwise. Repeat for all legs.
• Tighten by hand or spanner until legs are firmly in place.
• Re-check legs for tightness every 6 months.
• IMPORTANT: It is the purchaser's responsibility to tighten the legs and castors to ensure the bed is set up as intended. The warranty/guarantee is void if this is not performed as recommended.
• For better performance of your mattress, we strongly recommend the use of an appropriate Manufacturer Foundation, which has been especially designed to work with your mattress or deliver the right support.
• WARNING: If weight is applied to surface of the platform base (by kneeling, standing, jumping, sitting or leaning), you may damage the platform board. This will void your warranty/guarantee.

Slat and platform beds
The use of slat foundation and other bedding furniture may result in damage being caused to your mattress. Comfort Sleep Bedding warranty/guarantee covers manufacturing faults as defined in this warranty/guarantee card, but does not cover damage caused by inappropriate foundation furniture.
The use of a soft, sagging or non-supportive base such as bowed posture slats or narrow tubing, which in our reasonable opinion is not supportive, will void this warranty/guarantee.

Body Impressions
The sleeping panel on your mattress is made up of a combination of foam and comfort fibers, and when the mattress is new you will notice that the panel is uniform in appearance. However, as the mattress wears, those layers will respond to your body and consequently, will reduce marginally in loft. This is completely normal and highlights that the layers are performing as they should. This marginal reduction in loft does not affect the performance, support or lifespan of the mattress.
This Warranty / Guarantee does not cover:
• Mattress fabric including stains, soiled or burns.
• Normal body impressions (less than 35mm).
• Damaged or torn handles which should only be used to position the mattress and should not be used to support the full weight of the mattress.
• Border wires, which run along the perimeter of the mattress and foundation, bent due to moving or bending the mattress (unless specifically designed for use on an adjustable base).
• Bedding sold as is.
• Bed height.
• Comfort preference, or any adjustments to comfort layers.
• Heat issues.
• Damage due to abuse.
• New mattress material odour.
• Mattress damage due to inappropriate foundation. A mattress is designed for full performance when used in conjunction with a matching foundation as part of a total sleep set (refer to slat and platform beds).
• Minor manufacturing anomalies that do not impact the performance of the bed.(eg, mis-stitching on quilting).
The Do's
• DO dispose of your plastic bags immediately.
• DO plan to keep your mattress dry. Protect it from water and other fluids.
• DO use a mattress protector.
• DO rotate your mattress. This should be done every 2 weeks for the first three months, then once every two months after. One sided mattresses should only be rotated and not flipped. Double sided mattresses should be flipped and rotated.
The Dont's
• DON'T ever use dry cleaning fluid of any type on your mattress. Chemicals will damage some of the construction materials.
• DON'T let anyone stand or jump on your mattress.
• DON'T flip one sided mattresses, rotate only.
• DON'T lift the mattress from the handles. They are there for positioning your mattress only, not for lifting the full weight of the mattress.
• DON'T ever place this mattress near open flames or expose it to fire.
• DON'T use the edges of your mattress as a sitting surface, this will cause damage to the springs/foundation.
• DON'T bend your mattress under any circumstances, unless the mattress is designed to be used on an adjustable base. It may damage the innerspring unit. Flex rather than bend the mattress when going through doorways.
• DON'T remove the label or law tag off your mattress. This serves as a means of identification to establish your warranty/guarantee.
• DON'T place a board between your mattress and foundation. Your sleep set is specially designed to provide you with the correct support. Follow the leg and castor instructions for the foundation.
Rotation Instructions
For single sided mattresses grasp the mattress corners and spin the mattress clockwise 180 degrees across the base.
Turning Instructions
Double sided mattresses need to be turned and rotated. Please follow these instructions.
• Grasp the mattress corners and spin the mattress clockwise 90 degrees across the base.
• Tip the mattress up on its edge. Then roll it over so a new sleeping surface is presented.
• Now grasp the mattress corners and rotate the mattress clockwise until the mattress is again aligned with the base
Transport & Inspection charges

Preliminary inspection.
Prior to a Comfort Sleep Bedding representative visiting a customer at home, we require an image of the mattress/base without any bedding linen, highlighting the alleged fault area. The image can be sent via Email. (Please contact Comfort Sleep Bedding for contact details). Comfort Sleep Bedding reserves the right to refuse service or pickup if the product is found to be in an unsanitary condition.
Home inspection
After preliminary inspection, customer service will call to arrange a mutually convenient time to inspect the mattress at the customer's home. Comfort Sleep Bedding reserves the right to charge an upfront call out fee prior to inspection taking place at any stage during the life of the mattress. This fee will be refunded should a manufacturing fault be discovered.
Comfort Sleep Bedding will endeavour to provide the most prompt service possible, however, a daily return service cannot always be guaranteed. Accordingly, Comfort Sleep Bedding does not supply loan mattresses.
If a product is deemed to be faulty by Comfort Sleep Bedding, during the first year after purchase transport charges relating to warranty/guarantee issues will be met by Comfort Sleep Bedding. After the first year, transportation charges will be reasonably met by the purchaser. In no case will any transportation charges be accepted without prior approval from Comfort Sleep Bedding.
Availability of identical materials
Every effort will be made to repair or replace the mattress with the identical materials to those originally used. However, if identical materials are not available at the time of repair or replacement, we reserve the right to substitute materials of equal quality.
PROUDLY AUSTRALIAN MADE MATTRESS